So what about newborn posing ? This is a VERY important aspect of newborn photography. It might look like a newborn photographer is just positioning babies into any positions that work. But actually, most newborn photographers have a particular posing flow so they can get a variety of different angles and photographs of the baby. Newborn photography is quite a specialist art and its can take a lot of training to master all the standard newborn photography poses. There is also a certain knack to avoid disturbing the newborn at each posing change.
Below I will go through some of the standard poses so you have an idea of what to expect at your session. Not all babies move easily into all poses. If I feel that baby is not comfortable in a particular pose I will just skip that and replace it with another pose from which I can get similar angles.
Common newborn photography poses
Egg Shell Wrap
The egg shell wrap pose gives the impression of baby being encircled by a shell or cocoon. Its a great pose for an unsettled baby as it doesn't require too much positioning. Newborns also love the security of the wrap encircling them.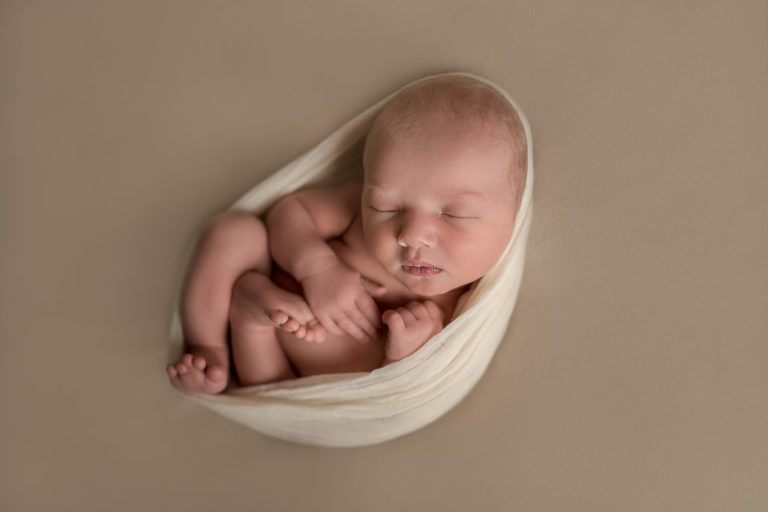 Taco
Taco pose is where the legs fold up under the newborn, really emphasising just how small baby is. I find some babies easily move into taco, while others don't naturally curl up. I didn't push the pose if a baby seems reluctant.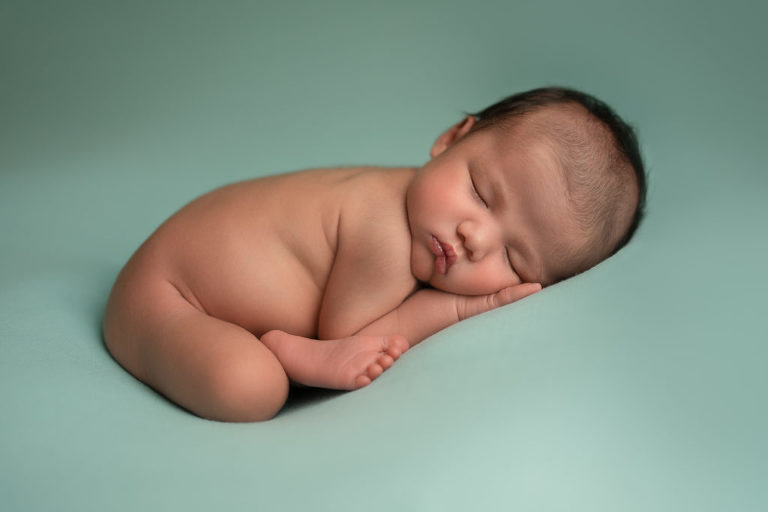 Tushy up
In this pose, the baby is sleeping on its tummy. By slightly raising the head and bottom of baby a lovely, curved & snug pose is created. This curvature helps to emphasis the adorable little rolls on babies back.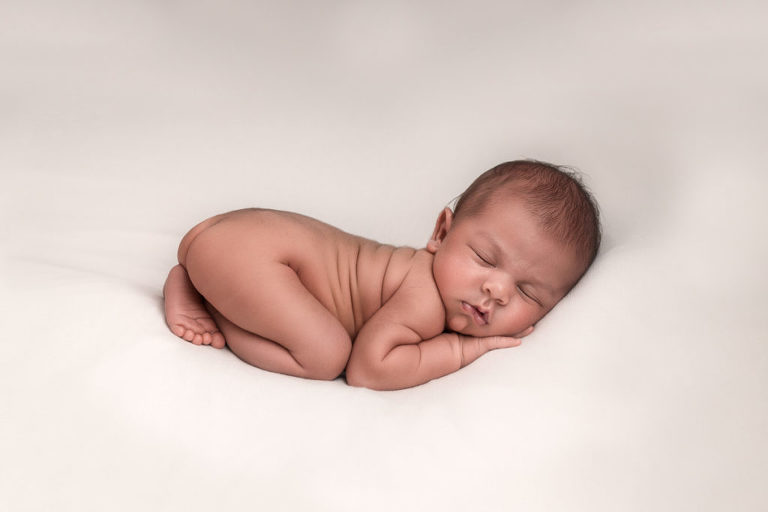 Side laying
This is an easy pose to move to after the tushy up pose without too much disturbance. It is a lovely natural looking pose and allows photographers to capture detail close ups of little toes, and hands.
Head on hands
Is this pose, the newborn is laying on their tummy, with their head resting on the hands. The head can be either straight up, or laying to the side. This pose is great for getting a really clear photo of babies face. It is also great for capturing all the little details like eye lashes and lips.
Potato sack
I find potato sack to be the absolute best pose for an unsettled baby. A nice firm swaddle around the baby gives them the familiar feeling of being curled up in the womb. If a baby is having problems getting to the sleep in a session, I will often switch to the potato sack pose. Once wrapped they fall asleep within minute. When the newborn is solid asleep I can then move onto other poses.
Bowl posing
Bowl & Bucket posing is great for creating variety in a gallery. Wrapping the newborn baby and positioning in props gives you lots of opportunity for styling. You can match colours with the nursery or lounge room. So when it comes time to get the images printed, they will look perfect on clients walls!
Looking for a Noosa newborn photographer ?
I know how exhausting those newborn days are ( I've had 4! ) but I also know how quickly it goes. Let me capture these early days for you and your family. I will create beautiful images for you to look back on and treasure. Its best to book in a session around the 20th week of pregnancy to ensure availability. Relax in my Noosa studio while I create the memories.
You can take a look at my newborn gallery here: Newborn photography gallery
If you are reading this but based in the UK ( where my studio started! ) then its worthwhile checking out the work of award winning baby photographer in Surrey, Natalie Moss. Natalie is an outstanding newborn photographer – actually one of the best newborn photographers! This year she was the winner of Newborn Photographer of the year 2019 at the SWPP international awards. Such an amazing achievement! On her website she has many examples of the poses discussed above.